The 5BX Workout Plan: Reloaded & Improved
No doubt many of you have heard of the fitness program developed back in the early 1960s by the Canadian Armed Forces known as the 5BX Plan.
The 5BX acronym refers to five basic exercises. 5BX has 6 levels and combines a series of strenuous exercises like running, squatting and push-ups. 
The backstory is that in the 1950s the Royal Canadian Air Force (RCAF) found that a substantial number of its pilots were out of shape.
Being stationed in varied postings--some remote military bases without fitness facilities--a program was needed where the personnel could get the requisite amount of exercise without having to rely on equipment or specialized facilities.
Which led us to the 5BX Plan, a rudimentary fitness plan which anyone can do anywhere in 11 minutes. The RCAF program came with 6 slightly modified versions, each of them with an increasingly advanced degree of difficulty, however the program was intended to provide an easily maintainable level of lifetime fitness.
This is the precursor to the HIT type circuit training programs which are still popular today with good reason: they are an efficient way to fitness. Personally, I think this sorts of program is useful to a broad sample of the population.
Older people, those with poor fitness or looking to get back in shape as with those with mobility issues can benefit immensely as can advanced athletes who do these routines on off-days to help with recovery. 
The original 5BX starter program consisted of a toe-touching stretch, a sit-up, back extension, push-up and running in place.
Not a bad combination of movements, although there has been concern expressed over the years that there are some better replacement exercises, as particularly the first two might be not the best exercises for people with disc issues etc.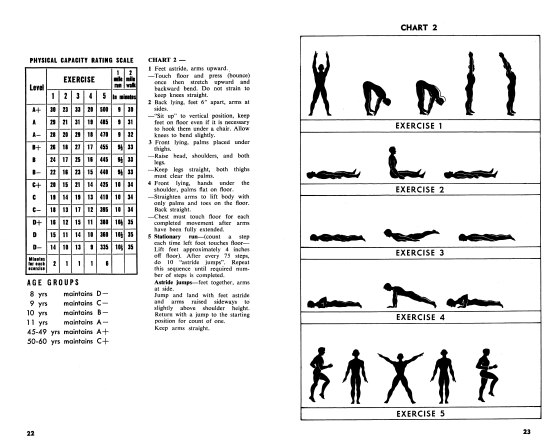 My suggestion is the replace the first two in the entry level, level one workout with better, safer alternatives: the hollow body hold and the glute bridge,  and v-sits and table bridge in the more advanced level two version. Although there is some glute involvement with the original with the back extensions, aka "supermans", adding glute bridges in is even more beneficial.
Running in place is an incredibly scalable option that can be tailored to suit your individual needs and abilities.
It can be of the more intense "high knees" version, or in our case, to start out, with the easier version where you kick your heels back. Or for someone who is older it can be a shuffling step motion.
An Improved, Modified 5BX Workout 
For those looking to get some basic fitness starting point, the Level One version is a perfect starting point. It can be done 4-6 days a week. 
For reference as to how many reps, that again is subjective. For reference you can look at the original progression tables (pdf link) set out in the 5BX plan to give you a good idea of progression and increasing difficulty. 
For those with not enough strength to do full push-ups, there are always the push-up progressions where one starts off with keeping their knees on the floor while doing the push-up.
Level One:
Glute Bridge
Hollow Body Hold
Push-Ups
Squats
Running in Place
A more intense version follows. Glute bridges have been replaced with table bridges, hollow body hold with v-sits, squats with jumping squats and running in place with jumping jacks.
All of these are great exercises and safe for the vast majority of people.
Level Two:
Table Bridge
V-Sits
Pushups
Jumping Squats
Jumping Jacks
Personally I do this on off-days with rope skipping, which has been one of the many new tools in my toolbox of lockdown workouts. Let me know if this works for you!
The Exercises
Glute Bridge
Table Bridge
Hollow Body Hold
How to Run at Home Without a Treadmill
V Sit Up