Eight Easy and Effective Beginner Workouts
Go into any gym anywhere and look at the best built, most muscular and aesthetic bodies, or at the physiques of pro athletes and ask, "what do they all have in common?" One thing is that they were all beginners at one time.
They all started on basic training routines and built a solid foundation on them, learning proper form with compound movements, training intensity, loading parameters and progressive resistance.
Let's outline some of the essential principles to how a beginner should train and lay a solid foundation for muscle gains for years to come!
The Benefits of a Full Body Routine for Beginners
What someone new to weight training needs is a simple well balanced routine which is easy to follow and substantially challenging, and a solid understanding of the basics of set, rep and rest between set parameters and some guidelines for when to add weight, duration and frequency of training sessions and how many days to train and when to change one's routine and exercises.
The hallmark of a well designed beginner's weight training routine is a so-called full body routine. Your whole body is a machine and when trained like one in unison, it allows for your nervous system become more rapidly adapted to the imprinting of the load and repetitiveness of the movements due to the increased frequency of training sessions. 
With a typical split routine, the trainee would typically devote an entire training session to one large muscle group, which comes at the expense of frequency, as most of these sorts of programs have you hitting each bodypart once a week.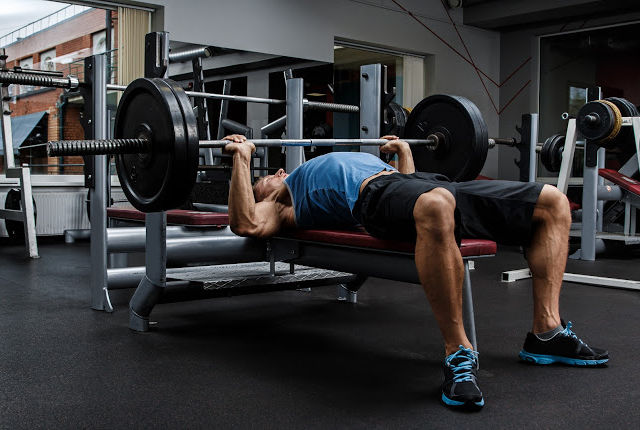 Doing this would likely result in a training volume that would be hard to recover from, "overtraining", for a beginner. 
Training your whole body in one session allows you to train each muscle group three times a week.
With a simple full body routine, the body learns to work as a whole, the fast and slow twitch muscle fibers contracting properly through a full range of motion, as they move progressively increasing resistance, resulting in the ongoing addition of more muscle.
Which Exercises Build the Most Muscle
There is no debating the fact that compound, multi-joint movements build the most muscle, allow for heavier weights to be used and are the most effective at conditioning the nervous system to heavy training.
These would be movements such as bench press, dips, military press, rows, squats, leg press, various deadlifts and pull-ups and chin-ups, versus isolation movements, such as leg extensions, leg curls, dumbbell lateral raises and so on.
Although it needs to be said that these movements are also important and should be added, but comprise no more than 20% of a newbie's routine.
How Often Should a Beginner Train?
I would suggest the optimal frequency is three days a week with a full day off in between. This would be Monday-Wednesday-Friday or Tuesday-Thursday-Saturday, which leaves four full days of recovery where you can focus on "active recovery" by going for long walks, riding your bike and so on as well as spending time working on stretching and mobility work.
How Many Sets and Reps Are Optimal?
A rep, or repetition is each single full upwards (concentric) and downwards (eccentric) contraction of the muscle through a full range of motion in a given exercise.
For example a complete rep on a squat would be descending into a full squatting position with the thighs at least parallel to the floor and coming up. With a flat dumbbell press, it would be from the arms fully extended to almost lockout to the inside of the dumbbell touching your chest.
A set is one single collection of reps, for example, three sets of ten repetitions. For more advanced trainers working on building raw strength the number of optimal reps is usually 3-5 - very low reps.
However for the beginner who's muscles haven't really developed to use heavy weights safely and also might not have learned proper form, it is best to use weights  that are in the 10-12 rep range, where the last rep is not one that takes you to total failure. This way you can ensure that you are not training with weights that are too heavy. 
It is also not necessary to train to failure to build muscle, something which risks overtaining and psychological burnout as well.
How Much Rest Between Sets?
Ideally one should strive for 2 to 3 minutes rest between sets. There is some research which suggests that untrained individuals need slightly more rest than experienced trainers for various physiological reasons. 
What Training Tempo Should a Beginner Use?
You can vary the training tempo, but it is advised when training for muscle hypertrophy that the lowering/eccentric part of the rep is done for 2-4 seconds and the upwards/concentric part for 1-2 seconds with a 1 second contraction at the top. Sometimes you will see this written in programs as 3:1:2 for three seconds down, one second hold and two seconds up.
How Often Should I Change My Routine?
To avoid training plateaus, overuse injuries and boredom it is best to change your routine before these things set in. It's advisable to change your routine every 6 weeks or so and move on to another one.
Eight Beginner Workout Routines to Pack on Mass!
Each of these workouts will have you cycling through two different workouts, not hitting the same muscles in the same manner each session, but there is enough overlap in the exercises that you will utilize the same muscles with each workout.
Summarily, each of these workouts should be spaced a day apart and each exercise be done for 3 sets of 10-12 reps with 2-3 minutes rest in between and training tempo of 4:1:2. 
Workout One
Day One:
Front Squat
Close-Medium Bench Press
One Arm Dumbbell Row
Barbell Curl
Standing Calf Raise
Day Two:
Semi-Sumo Deadlift
Incline Barbell Press
Chin-Ups
Cross Bench Dumbbell Pullover
Leg Curl
Workout Two
Day One:
Squat
Bench Press
Pulldowns  
Calf Raises
Hanging Leg Raises
Day Two:
Leg Press
Deadlift
Incline Dumbbell Press
One Arm Dumbbell Row
Incline Dumbbell Curl
Workout Three
Day One:
Leg Press
Dips
Barbell Row
Dumbbell Lateral Raises Supersetted with Front Plate Raise
Incline Dumbbell Curl
Day Two:
Trap Bar Deadlift
Military Press
Pull-Ups
Lying Barbell Tricep Extensions
Toe Press on Leg Press Machine
Workout Four
Day One:
Leg Press
Flat Dumbbell Press
Machine Rows
Seated Dumbbell Press
Calf Raise
Day Two:
Deadlift
Incline Dumbbell Press 
Pulldown
Side Lateral Raise
Seated Calf Raises 
Workout Five
Day One:
Box Squat
Bench Press
Neutral Grip Pull-Ups
Dumbbell Shrugs
Barbell Preacher Curl
Day Two:
Sumo Deadlift
Standing One-Arm Dumbbell Press
T-Bar Row
Leg Curl
Overhead Barbell Tricep Extensions
Workout Six
Day One:
Hack Squat or Machine Squat
Low Incline Dumbbell Press
Seated Cable Row
Barbell Shrugs
Cable Curls
Day Two:
Partial Rack Deadlift
Machine Row
Seated Dumbbell Press 
Single Dumbbell Overhead Tricep Extension
Calf Raise
Workout Six
Day One:
Rear Foot Elevated Dumbbell Split Squat
Close-Medium Grip Bench Press
One Dumbbell Row
Barbell Preacher Curl
Standing Calf Raise
Day Two:
Trap Bar Deadlift
Power Cleans
Military Press
Dumbbell Pullover
Leg Curl
Workout Seven
Day One:
Squat
Flat Dumbbell Press
Seated Cable Row
Cable Face Pulls 
Standing Barbell Curl
Day Two:
Conventional Deadlift With Double Overhand Grip
Seated Dumbbell Arnold Press
Chin-Ups
Close Grip Bench Press
Seated Calf Raise
Workout Eight
Day One:
Front Squat
Dips
Barbell Row
Bent Dumbbell Raise
Hammer Curl
Day Two:
Trap Bar Deadlift
Incline Dumbbell Press
Chest Supported Row
Dumbbell Pullover
Leg Curl