The 12 Minute Full-Body Lockdown Workout
For the past few weeks I've been doing this routine, using just one set of dumbbells.
This dumbbell-based workout is incredibly efficient, all 10 exercises hit every major muscle in the body, with an emphasis on your glutes and core.
Cycling through each exercise one after the other with minimal rest in between is what makes this so effective for fat loss and conditioning as well as building an athletic physique.
If, like me, you also like simplicity and minimalism, you will love this as other than needing basically one set of dumbbells, you don't need anything else.
This brief but strenuous, fast-paced, time-saving routine will leave you wondering what you need the gym for if your goals are just all around fitness, muscularity and fat loss.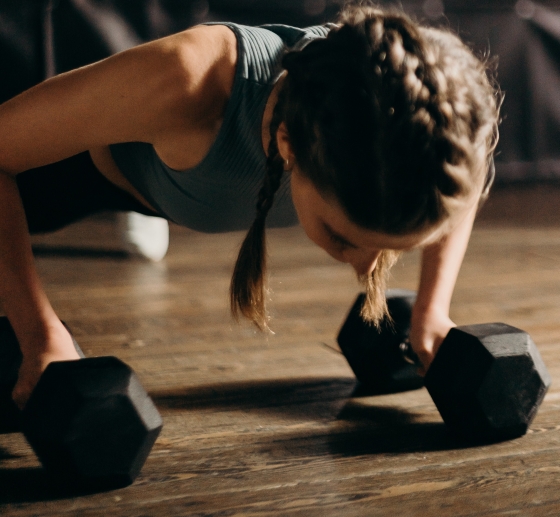 The 12 Minute Full-Body Lockdown Workout 
Each exercise should take you close to a minute, doing each movement with a cadence of 3 seconds down, 3 seconds up for each rep. The rest period between each movement should be no more than 10 seconds.
Select a pair of dumbbells that are appropriate for being able to complete the prescribed number of repetitions per exercise. (I use a pair of 40-pound rubber hex dumbbells, but this will depend on you. You may find anywhere between 15-40 pounds will suit you, depending on you)
Perform one set each of:
Dumbbell Squat-Curl-Press 15 reps
Dumbbell Bear Rows 10 reps each arm 
Push-ups 20 reps 
Dumbbell Bulgarian Squats 12 reps each leg 
Dumbbell Swings 30 reps
Dumbbell Single-Stiff Leg Deadlift (unilateral) 12 reps each leg or Dumbbell Stiff-Leg Deadlift (bilateral) 12-15 reps
Side planks 30 seconds each side 
Feet Elevated Push-ups 20 reps 
Dumbbell Racked Front Squats 15 reps 
Glute Bridge With Dumbbell Triceps Extensions 25 reps
Notes: again, try to make each set last 45-50 seconds, rest 10 seconds. Most days I actually cycle through this twice and then do some jump rope after, but you will find that going through this twice is a fairly taxing workout in itself as well.
Bonus Workout! 
With the Squat-Curl-Press being a full body exercise in itself, you could also perform a stripped down version of the above like this:
Dumbbell Squat-Curl-Press (15 reps)
Superset that with:
Dumbbell Renegade Rows with Push-ups (One push-up after each arm row, so you would do a total of 8 rows each arm, 16 push-ups)
V Sit-up 8-12 Reps
Repeat the entire circuit 3-5x. This gives you a squat, upper body push and pull and hinge/core.
The Exercises
Dumbbell Squat-Curl-Press 
Dumbbell Bear Rows 
Dumbbell Bulgarian Squat
Dumbbell Swing
Single Leg Dumbbell Deadlifts
Feet Elevated Push Up
Dumbbell Front Racked Squat
Glute Bridge With Dumbbell Triceps Extension
Renegade Row with Pushup
Hope you find this as productive and efficient as I did. Let me know what you think of this!